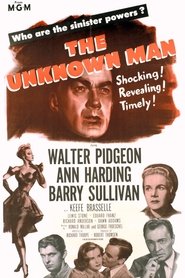 The Unknown Man (1951)
Prominent attorney Brad Mason takes on the defense of Rudi Walchek, a young hit-man hoodlum accused of murder. Convinced of the youthful thug's innocence, Mason get him acquitted. Later, he learns from the murder-victim's father that Walchek is a low-level member of a protection-racket gang and was undoubtedly guilty. Mason is anxious to get the gang-leader, but when he discovers it is the eminently respected head of the city's Crime Commission, he feels that a conviction in a court-of-law would be impossible. In a rage, he kills the man, but all evidence, including the murder weapon points to Walchek. When the latter is again brought to trial, Mason, although he senses a higher justice is at work, feels he must defend him with the best of his ability.
Duration: 86 min
Quality: HD
Release: 1951
Tagline: Shocking! Revealing! Timely!
6.6