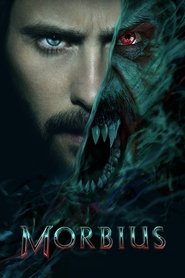 Morbius (2022)
Dangerously ill with a rare blood disorder, and determined to save others suffering his same fate, Dr. Michael Morbius attempts a desperate gamble. What at first appears to be a radical success soon reveals itself to be a remedy potentially worse than the disease.
Views: 731
Genre: Action, Cinema, Fantasy, Horror, Sci-Fi
Director: Daniel Espinosa
Actors: Abraham Popoola, Adam El Hagar, Adria Arjona, Al Madrigal, Amanda Perez, Archie Renaux, Atul Sharma, Barry Aird, Bentley Kalu, Bern Collaço, Charlie Shotwell, Chris Ryman, Clara Rosager, Colin Blyth, Corey Johnson, Crystal Wingx, Dave Simon, Gloria García, Jared Harris, Jared Leto, Kadrolsha Ona Carole, Kalle Hennie, Manoj Anand, Matt Smith, Michael Keaton, Nick Owenford, Ruth Horrocks, Tina Louise Owens, Tom Forbes, Tyrese Gibson
Country: USA
Duration: 90 min
Quality: 720p HD
Release: 2022
Tagline: A new Marvel legend arrives.
4.2