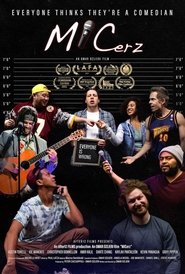 MICerz (2022)
After a DUI brings Arnold to rock bottom, living in his van gets worse when it breaks down outside of a raunchy underground comedy club. Now Arnold will chase a dream he never pursued – if he can earn the trust of the crazy family he never knew he needed.
Views: 6
Genre: Comedy
Director: Omar Dzlieri
Actors: Alana de Freitas, Amir Kalil, Angela Nissel, Austin Torelli, Cameron Moffid, Carla Lomelín, Christopher Donnellon, Cynthia Aileen Strahan, Dante Chang, Griff Pippen, Joe Manente, Kaylah Pantaleón, Kevin Paniagua, Monarey Martinez, Robert Artz
Country: USA
Duration: 90 min
Quality: HD
Release: 2022
Tagline: Everyone thinks they're a comedian. Everyone's wrong.
4.2