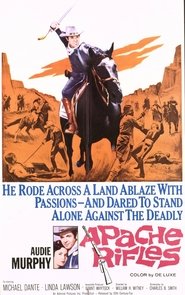 Apache Rifles (1964)
In the Arizona Territory in 1879, Captain Jeff Stanton takes command of a cavalry unit tasked with returning the Apaches to their reservation. The Mescaleros Apaches, led by chief Victorio, have left the reservation and openly attacked farmers,gold miners and settlers who trespassed on their lands. During a skirmish, Captain Stanton captures Red Hawk, the son of the chief, and uses him to bargain for a truce.Stanton promises to chief Victorio to see that gold miners and settlers are kept off Indian lands.However, some greedy townsfolk and disfranchised gold miners plot to break the uneasy truce.They murder the Indian agent and blame the Apaches.They complain to Washington D.C. about Captain Stanton's negotiated truce.Stanton is replaced by Colonel Perry who intends to use a heavy hand in subduing the Apaches.The consequence of this strategy change proves disastrous.
Duration: 92 min
Quality: HD
Release: 1964
Tagline: The Cry Was Revenge - And One Man Vowed to Stop the Bloodshed of Two Warring Nations!
6.2